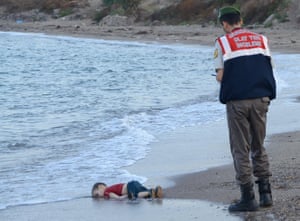 Young boy found lying face-down on a beach near Turkish resort of Bodrum was one of at least 12 Syrians who drowned attempting to reach Greece.
In a tragic case,the parents of a seven-year-old boy who died of suspected dengue after allegedly being denied admission by two prominent private hospitals in New Delhi committed suicide by jumping from a four-storeyed building in south Delhi's Lado Sarai.
The first bit is a news which shook the entire world and the souls of every human being who read it. The second is a small time news from a small suburb near New Delhi. Where the first case was shocking, the second one was shameful.
A 7 year old child gave in to dengue after his parents were unable to find a hospital bed for him in 24 hours. They rushed from one big hospital to another, each being around 3 miles from one another. The middle class young parents of Avinash (the kid in the picture) were denied a place for their child and finally when they were granted a bed at Batra medical facilities, it was too late and child died in a couple of hours. This news came in light because, after the incident, both his parents, Laxmichandra and Babita tied their hands with each other and jumped from their terrace, leaving a suicide note behind. The government has questioned the conscience and duty of doctors in the case.
As far as Aylan Kurdi case is concerned, there is some mist around the situation. Some reports have adjudged his father as the real culprit claiming that he is a people smuggler while others blamed the Dublin regulation.
Whoever was the culprit, humanity lost.
Whether it was Aylan or Avinash, they died because of sheer apathy, negligence and lack of responsibility in our society and not by the fault of one person.
Here in India, the dengue death case is heavily discussed on every big news channel. It will go on for a few days and then, some other news would be in news. Avinash and his parents would fade away, like a news.
Aylan will have a bigger legacy, as it deals with a much more serious global crisis. There is already a Wikipedia page about him. He will be remembered as a face of failure on part of European nations and debates will go on for months.
While the hoopla around these two children will be discussed in the respective media, apathy will be victorious, politics will be powerful, blames will be thrown, responsibilities will be rejected and humanity will mourn. Then, life will move on.
As George Carlin said once,
"The planet is fine. The people are fucked."
But I am a dolt. What do I know!